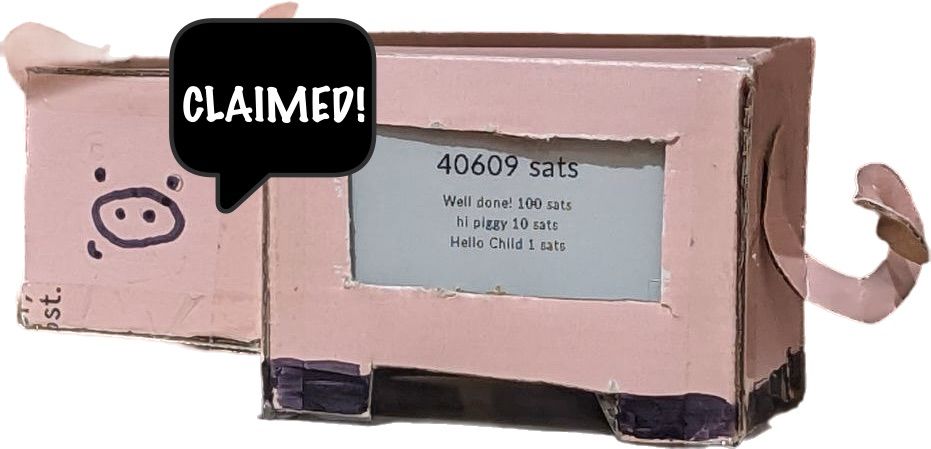 We're excited to launch our first bounty to encourage more devs to join the project and to ultimately bring more piggies to market.
PROJECT: LIGHTING PIGGY
BOUNTY: WAS 1,000,000 SATS [NOW CLAIMED]
TASK: DEVELOP AND DEPLOY A WEB INSTALLER FOR THE LIGHTNING PIGGY CODE, THAT IS EASY AND INTUITIVE TO USE. INSTALLER TO BE MADE AVAILABLE ON WWW.LIGHTNINGPIGGY.COM
CODING LOCATION: https://github.com/blackcoffeexbt/lightning-piggy
TIMELINE: TWO WEEKS (TM)
Lightning Piggy is a cash piggy bank for children that accepts bitcoin sent over lightning, while displaying the amount saved in satoshis. We plan to use this educational platform to onboard the next generation to a bitcoin standard from the very beginning, sidestepping FIAT money altogether.
The project is free and open-source. So far there's only one piggy in the wild (Wales). It turns out installing the code currently requires a high degree of technical knowledge and experience. We want to take the project to the next level where anyone can easily and repeatably build a piggy for themselves. Having a web installer will help significantly to realise that goal.
If you would like to take on this task, whether as an individual or a team, please reply here, or email oink@lightningpiggy.com.
Thank you.
Lightning Piggy Team
---
Build: GitHub | Installer | Wiki
Follow: Nostr lightningpiggy@nostrplebs.com | Twitter | YouTube